Chiropractic Care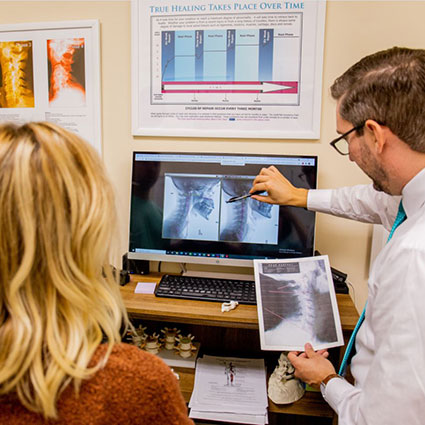 What Is Chiropractic Care?
Chiropractic care works through the relationship between the spine and nervous system that directs the healthy functions of the body. Chiropractic seeks to improve this relationship by correcting misalignments (subluxations) in the spine that interfere with internal health processes.
How Can Chiropractic Care Help Me?
The greatest benefit of chiropractic care is improvement in the nervous system which regulates the body's functions. This can help the body to heal acute and chronic conditions naturally over time.
Many patients come to Southern Spinal Care, PC because of pain or some particular set of symptoms. Using gentle and precise adjustments, we are able to target the cause of the pain and symptoms without merely masking them temporarily. Our goal for every patient is improved overall health for a better quality of life. Many conditions can benefit from chiropractic care, including:
Neck pain
Back pain
Headaches
Migraines
Vertigo
Fibromyalgia
Asthma
TMJ
Allergies
Insomnia
ADD/ADHD
Sciatica
Concussions
Trigeminal Neuralgia
Acid Reflux
Pinched Nerves
Our Focus
We practice Upper Cervical Care using the Blair technique. There is no twisting, cracking or popping in this method, which makes it ideal for patients who may be a bit nervous about visiting a chiropractor. Because Upper Cervical Care affects the entire body, patients regularly demonstrate improvement in physical functioning, physical limitations, emotional limitations, energy levels, emotional well-being, social function, pain, and general health.
Dr. Renfrow- Lecture on Health
What causes spinal misalignment, subluxation, compensation, and degeneration? (Mini-lecture)
What is health? Vitalistic healthcare contrasted with the traditional medical model. (Mini-lecture)
We'd Love to Help You, Too
We are grateful for the opportunity to serve the Little River community, and feel humbled every day when we witness people getting their health back and enjoying life again. We'd love to help. Contact us today for more information about upper cervical care or to schedule your consultation.
CONTACT US »
---
Chiropractic Care | (843) 399-0182