New Patients at
Southern Spinal Care, PC
We want you to understand the process of getting started with upper cervical care, to alleviate any apprehensions or confusion you may have.
The Consultation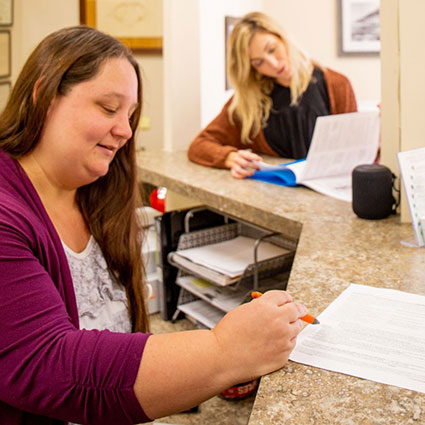 Your first visit is a consultation. We will email paperwork for you to complete and return to us before coming in. This paperwork includes your health history, which will help us prepare to see you. In your 15-minute consultation, Dr. Renfrow will talk with you about your health history and your current condition or complaints.
Our goal during the consultation is to determine what you need, based on your history and condition. If we feel we can help you, we'll schedule your exam. If not, we'll tell you that directly.
The Examination
Your second visit consists of a thorough examination, including on-site x-rays if needed. This exam will generally last 45 minutes to an hour.
We will need to process your exam results, x-rays and health history which will be presented to you at your next appointment known as a "Report of Findings."
The Report of Findings
At your third visit, Dr. Renfrow will go over your exam findings and explain what will need to be done. You will receive your first adjustment at this visit. All adjustments are gentle and involve no twisting, cracking or popping. After adjustment, you'll relax for 30-45 minutes in a zero-gravity chair. This is critical for promoting longevity and effectiveness of your adjustments. "Holding is healing" as we say, meaning that improvement only occurs as adjusted bones stay in their corrected position. So, we want your adjustments to "hold" as long as possible and resting helps very much.
We Make It Affordable to Get Care
Though we are not in network with a single insurance provider, reimbursement is often available based on the patient's individual policy or plan. We are happy to provide superbills, and we offer a variety of payment options to ensure you can get the care you need.
Commitment to Health
When you're committed to regaining your health and getting your life back, we're committed to helping you do that by restoring proper spinal alignment. Contact Southern Spinal Care, PC today to schedule your consultation.
CONTACT US »
---
New Patients at Southern Spinal Care, PC | (843) 399-0182