Upper Cervical Care at Southern Spinal Care, PC
What Is Upper Cervical Care?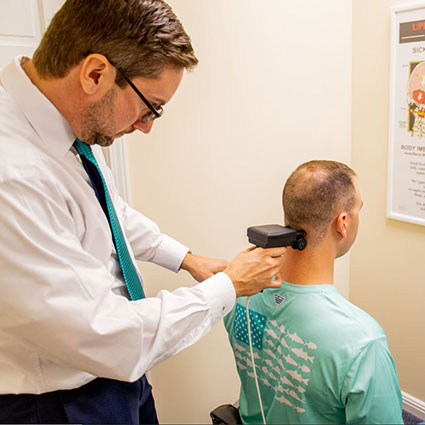 Upper cervical care is a chiropractic technique that identifies spinal misalignments using specialized diagnostics and then gently realigns the cervical spine (neck) over time. This allows the entire body to regain normal structural and neurological balance. In this state, the body can function optimally and naturally heal damage that causes symptoms and conditions.
Who Can Benefit from Upper Cervical Care?
At Southern Spinal Care, PC, we know that everyone with a spine can benefit from care! We see good results with people of all ages and all types of conditions. Some patients who can especially benefit from upper cervical care include:
Patients who are hesitant about chiropractic care or who haven't responded well to other forms of chiropractic care
Anyone looking for a non-invasive alternative
Kids
Upper Cervical Care is extremely gentle—there is no popping, twisting, or cracking. It is precise and based on your unique needs, which makes it ideal for people who are nervous about traditional adjustments. Conservative and non-invasive; it's an ideal first-choice alternative to expensive, high-risk interventions.
Great for kids because of its gentleness and because it can improve many common pediatric conditions before they become bigger problems later in life.
Taking the First Step
If you're looking for a comprehensive approach to your health, upper cervical care may be the answer. Contact us today to learn more about this chiropractic technique, or to schedule your consultation.
CONTACT US »
---
Upper Cervical Care Little River, Myrtle Beach, North Myrtle Beach SC | (843) 399-0182